Move beyond kegels and integrate a whole-body approach to pelvic floor issues in just 20 minutes a day!
Do you struggle with…
Pelvic floor pain

Incontinence or urgency

Not seeing results with the typically prescribed exercises

Finding the time to do the exercises

Thinking that you need fancy equipment
Or you're just not sure what to do...
That's exactly why I created Pelvic Floor Fundamentals!
I want to help you understand how the whole body supports the pelvic floor and have access to easy-to-follow exercises that you can do at home without taking up all of your time.
Get an integrated full-body approach to pelvic floor issues for under 20 minutes a day so that you can easily start the process of regaining your pelvic floor health!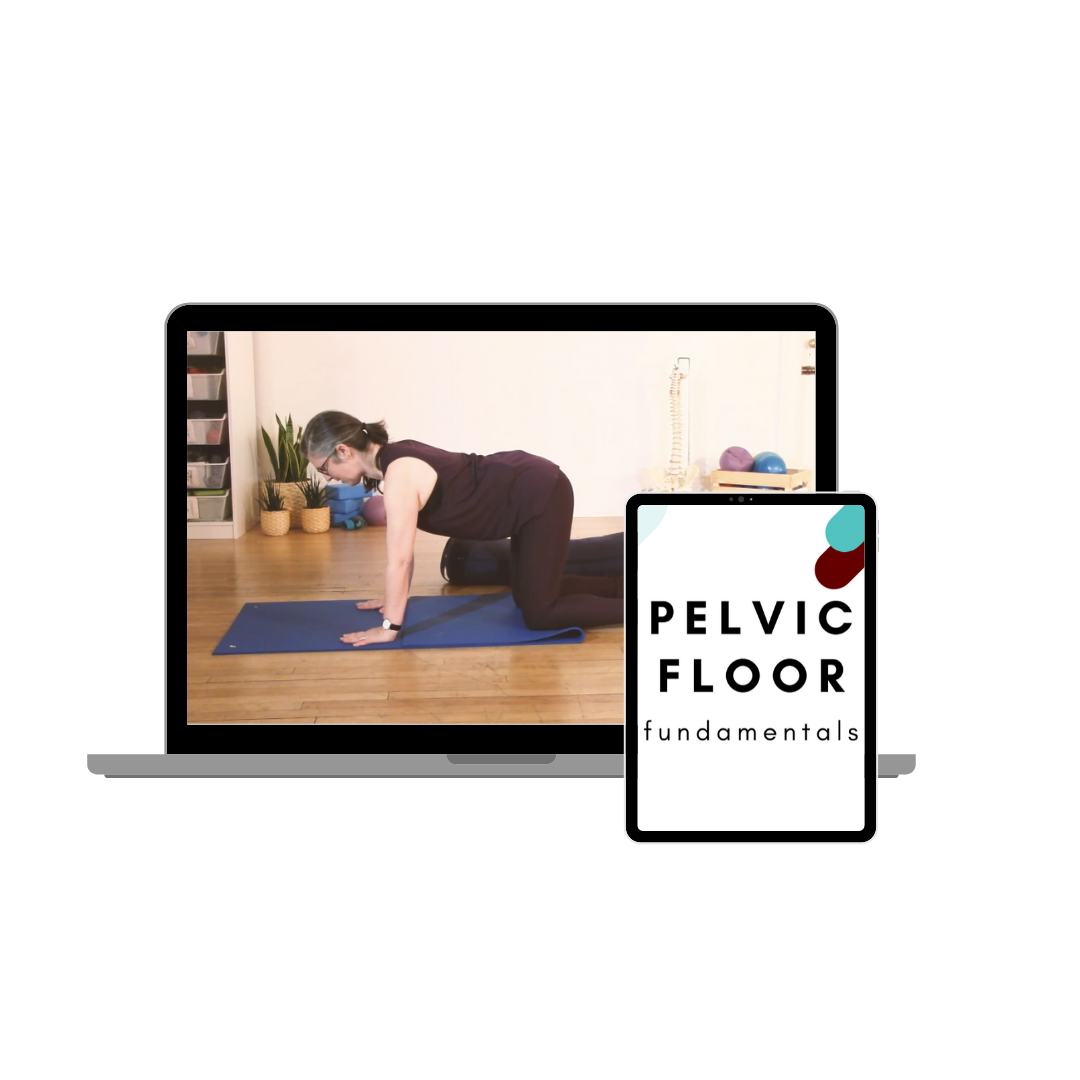 Access on any device.
Get lifetime access.
4 part online course valued at $120
Now only $39 CAD
The Pelvic Floor Fundamentals course contains
4 areas of focus
, containing
anatomy overview videos
,
"What's the Why?" videos
, and
full class videos that are 15-20 minutes long
. It's not about being perfect, taking up all your time, or forcing yourself to do everything. A little bit every day is the way to make sustainable change!
Get to know your pelvic floor specifically with easy to understand anatomy lessons

Learn to "unclench" so we can work more effectively when we do engage the pelvic floor

Think beyond crunches and make the connection to your pelvic floor and core through breathing

Uncover the relationship between your pelvic floor and your hip muscles

Finding a place where we can access the full capacity of the pelvic floor

And, an unexpected connection: work your feet to support your pelvic floor!
Right now, you're struggling with:
Finding the time to do the exercises you know would help.
Thinking that you need fancy equipment to get results.
Pelvic floor pain.
Incontinence or urgency.
Not seeing results with the typically prescribed exercises.
Thinking that pelvic floor exercises are just kegels.
Imagine:
You look forward to doing pelvic floor exercises because it's only 20 minutes and you can make that happen in your busy day.
You have a firm understanding of pelvic floor anatomy beyond where and what to clench.
You find your posture and back discomfort improve with the core, hips and feet exercises.
You're able to breathe better knowing how the breath supports pelvic floor function.
You can laugh and sneeze without worry!
Alison has been teaching Pilates and movement for almost 20 years. A dedicated Pilates instructor with an eye for detail, she enhanced her skills and understanding of bio mechanics and functional alignment during her certification as a Restorative Exercise Specialist with Katy Bowman and the Nutritious Movement Institute.
Alison is fascinated by how bodies work and has taken part in two fascial dissections with Tom Myers of Anatomy Trains. Her experiences have added nuance and detail to her understanding of how truly it's all connected!
Alison has an approach to movement and health that includes exercise-specific movement, natural everyday movement, somatic body and brain exploration and a deep conviction that how our brains and bodies get together makes all the difference to how we feel. Combining functional, exploratory details and alignment with fluid, intuitive movement and an emphasis on acceptance and fun leads to sustainable change that helps you feel better for life!
What's included:
➜ Video course with 4 areas of focus supporting the pelvic floor.
➜ 4x movement videos you can do at home, under 20 minutes. (
$60 value
)
➜ 4x short "Anatomy for Everyone" videos explaining the body so the movement makes sense. Helpful for you visual learners! (
$40 value
)
➜ 4x "What's the Why?"quick videos to clarify the goals and intentions of the movements. (
$20 value
)
Total value at $120
Frequently Asked Questions:
When does the course start and finish? When do I get access?
You can start at anytime, with instant access! These videos can be done daily, weekly, whatever works for you.
How long do I have access to the course?
How does lifetime access sound? After enrolling, you have unlimited access to this course for as long as you like - across any and all devices you own.
Is this course just for women?
Nope! We all have a pelvic floor, regardless of gender identity. The videos have gender neutral languaging so we can all connect to our pelvic floors.
Praise for Alison's online courses:
"Experienced, nuanced and generous with her knowledge for all things movement. Alison is truly a gifted teacher and communicator and allows you to look at the complex human body in a totally different light. I'm grateful for any opportunity I get to learn from her!"
- Diana M Yoga & Pilates Teacher
"You are a great translator and communicator Alison, so warm and relate-able but also clearly very very knowledgeable too. A rare mix."
- Mel P Pilates and Restorative Movement Teacher
It's easy to access your course!
Once you're ready to purchase this course...
During the checkout, you'll create an account for your student dashboard on Teachable where this course is stored!
Your Pelvic Floor Fundamentals course will be found in your own student dashboard, including any other courses you've purchased.
Start your pelvic floor journey whenever you're ready, from any device!
Refund policy: Due to the digital nature of this product, there will be no refunds after purchase.